Ancient Cultivation
Buckwheat comes from the Fagopyrum esculentum plant, which is related to rhubarb and sorrel.
In Asia, buckwheat comes from the related Fagopyrum tataricum plant. Buckwheat has been cultivated for over 8,000 years, and so it is sometimes called an ancient grain. It is a crop that has never been genetically modified, so all buckwheat is non-GMO.
Buckwheat was a very common crop worldwide until nitrogen fertilizer was introduced in the 20th century, which increased the production of corn and wheat. As a result, these crops were planted in fields formerly used for buckwheat, and the production of buckwheat fell dramatically.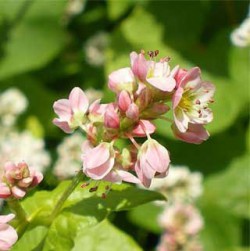 Ancient grains
Buckwheat was a much more popular crop before the introduction of nitrogen fertilizers in the 20th century.
New fertilizers dramatically increased the productivity and profitability of other popular staples like wheat and maize. This advancement resulted in substantially reduced buckwheat production. In America, over a million acres of buckwheat were harvested in 1918. By 1954 production decreased to just 150, 000 acres.
It used to be that most of the buckwheat produced was used for livestock and poultry. Today most buckwheat production is for human consumption. During the mid 1970s demand for new breakfast cereals and buckwheat noodles skyrocketed. This caused a surge in interest in buckwheat as food. Building on this recent popularity, the marketing of "ancient grains" as healthy alternatives to traditional modern foods has made buckwheat a resurgent crop.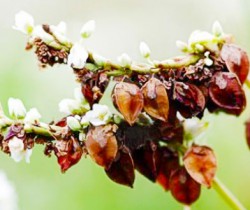 Buy Top Quality Roasted Buckwheat Now